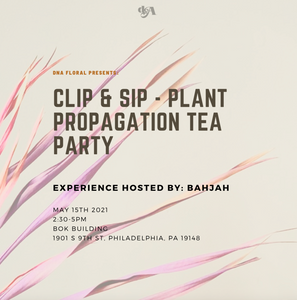 Through this experience, we'll explore and share information on a variety of houseplants - how to care for them (proper lighting, watering, fertilization, repotting, etc)...and how to grow a new plant from a single cutting! Plants can be expensive - propagation is an inexpensive way to create more plant life. Guests will have the opportunity to bring cuttings from their own plants to exchange with other guests (or me, the host lol)...and they'll also have the opportunity to take cuttings from a few of my favorite plants!
While we clip cuttings, we'll also sip teas! We'll explore different varieties of teas - white, black, green, oolong, herbal, and pu'erh. We'll explore with our palates and discuss the many benefits of tea. ***Coffee will also be available! (Coffee lovers love plants too, right?! :) So let's clip, sip, and chat about our love for plants!
This experience is for every plant lover - those who love to admire from afar, the beginner, and the expert.
Instagram @bahj